At least 28 people have died at Istanbul's Ataturk International Airport, where an explosion followed an outburst of gunfire Tuesday night, according to Turkish officials. Police and emergency personnel have flocked to the airport. Some 60 people were reportedly injured.
Crucial details about the attack are still emerging. We'll update this post with news from Istanbul as it emerges.
Istanbul Governor Vasip Sahin delivered an update on the death toll in the attack, in which he also said investigators are looking at the possibility that three separate explosions struck the airport.
Earlier Tuesday, Justice Minister Bekir Bozdag said at least 10 people had died in the attack, which included an explosion near the airport's entrance.
"The minister said a terrorist opened fire with an AK-47 assault rifle at the international terminal before detonating a suicide bomb," reports the state-run Anadolu Agency.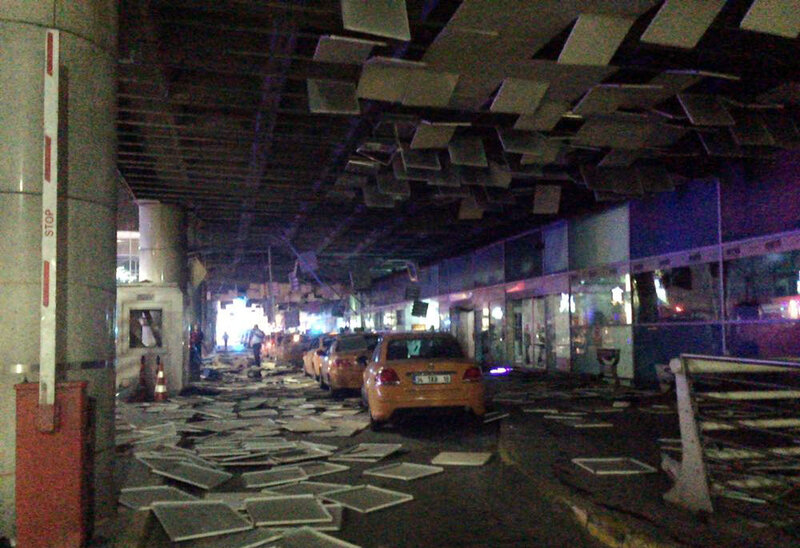 A video posted to Twitter suggests security personnel shot an armed attacker as he ran around a corner in the airport. The video, one of several that appears to be smartphone footage of a security camera monitor, shows people fleeing from a man who then falls to the ground. The man struggles on the ground for some 20 seconds before the scene is overtaken by a large explosion.
In one harrowing video that looks to have been filmed by pointing a smartphone at security camera footage, the moment the blast struck seems to have been captured. The images show a large fiery blast — one that could have spread devastation much further if it hadn't been at least partially contained by a hallway. At the end of the sequence, people who seem to have been only around 50 feet from the blast are seen running away. The video was posted to Twitter by many accounts; several of those postings were then removed.
TV news channels in Turkey put out an online video stream showing more than a dozen ambulances responding to the airport. In one sequence, a police officer was seen walking out of the building, his shirt stained with blood.
A live online broadcast from the Dogan News Agency also showed ambulances, private vehicles, and a taxi cab rushing up to the doors of a hospital, unloading bloodied patients who were then quickly taken inside.
One video that was briefly posted to Twitter before being removed showed a scene of panic inside the airport, as a man who apparently works at the facility urged travelers to flee down a hallway.