news<br />

This was the year that South African hip-hop truly found its voice. Here are five of the best cuts from a momentous 12 months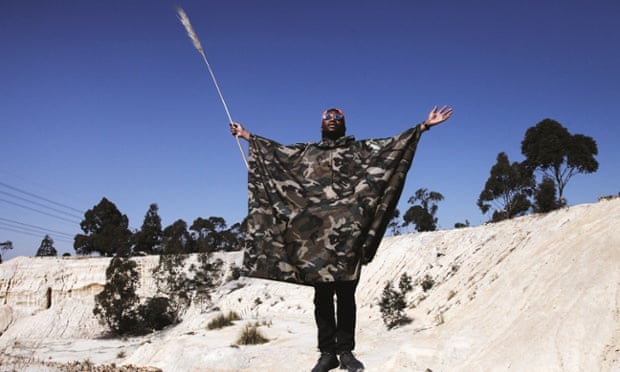 Okmalumkoolkat – Holy Oxygen
Of all the country's homegrown pop, South Africa's hip-hop scene has had the hardest time proving its commercial sustainability where house and kwaito – local music genres whose successes it's constantly measured against – have more or less flourished. Some pundits say that has begun to change this year. Their optimism comes from the record amounts of mainstream recognition being showered upon SA rap right now. With still some way to go, a series of milestones reached in 2014 could indicate that not only has found its voice at last, but also that more and more, South Africa's young music buying public is ready to listen. Smiso "Okmalumkoolkat" Zwane is the default flag-bearer for Dirty Paraffin and Boyznbucks – the duo and collective he juggles along with his solo pursuits. Sebenza, his collaboration with UK production duo LV, was the start of his path to increasing acclaim in Europe. Now he has delivered his latest, Holy Oxygen. The sci-fi styled video shot in an abandoned sewerage farm near Soweto, a mine dump and a eucalyptus forest, pairs perfectly with Smiso's lyrics zipping between languages. The "International Pantsula" shows here why he is the one most likely to break Western markets.
Tumi – In Defence of My Art Featuring Ziyon and Reason)
For his second single off his forthcoming album titled RobTheChurch, the South African poet and MC Tumi aimed for his usual thought-provoking impact but got a bit more than he anticipated. Three weeks after its release, one still image from his latest video In Defence of My Art circulated on Twitter and provoked the wrath of prominent feminists offended at the sight of Tumi with two leashed women on all fours. The debate raged for days decrying violence, patriarchy and misogyny. The rapper, widely considered progressive on women's issues, said in his defence: "I love that the exchange happened and I think it is important. However, it may [have] sparked more conversations around accountability, sexual violence, sex power dynamics and art." Certainly, it's hard to pinpoint another hip-hop music video in South Africa that has fueled such a timely, relevant and impassioned discussion on gender relations.
AKA – Run Jozi featuring KO
Now hip-hop is the true global musical lingua franca, rappers all over the world are localising it, paying tribute to the cities in which they dwell, and which shape their individual spins on the Bronx-born culture. Run Jozi does just that for Johannesburg. Current rap favourites AKA and KO trade braggadocio punchlines, and tip hats to their kwaito predecessors TKZee in a tune which fittingly ushers in a new era for South African hip-hop of which the young heads can be proud.
KO – Caracara featuring Kid X
For the uninitiated, a Caracara is a Volkswagen microbus, the South African township transportation of choice made popular in the 90s and commonly associated with local party scenes. With this song a new merger of Kwaito and rap known as Skhanda rap went mainstream reaching more than a million YouTube views – the first viral success of its kind in South Africa.
AKA – All Eyez on Me Featuring Burna Boy, Da Les and JR
One of the more exciting trends in Africa is the growing number of cross-pollinated hits that are springing up as more young African music heavyweights from different regions collaborate with each other. Nigerian star Burna Boy had the door on to the South African market held ajar for him by his slew of previous hits. But now thanks to this power syndicate the hinges are ripped off completely. All Eyez on Me is hip-hop's bonafide summer jam wherever you are across the continent.