Maybe they call it English aplomb, says Andrea Banchetti, who was among five Europeans kept on plane along with Ben Innes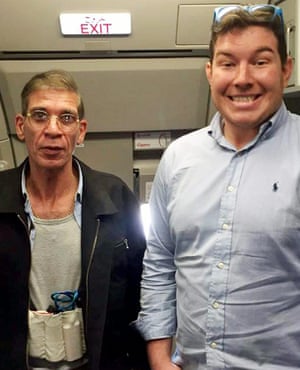 'We were talking, smoking. Taking a selfie. We were allowed to do anything apart from stand up,' said Andrea Banchetti, who was held with Ben Innes (pictured right).
One of the European passengers held hostage by the EgyptAir hijacker has described how he frantically searched for any clue that the suicide belt was fake, and the moment a British passenger asked for a photograph with their captor.
Andrea Banchetti, an Italian based in Genoa, said he was in disbelief that Ben Innes had asked for a picture with Seif Eldin Mustafa. "I wanted to run away from the aircraft," he said. "The door was open. But I said, 'If I run, the others might die.' And so this is not right. And then, Benjamin takes a selfie with the desperate man? Maybe they call it English aplomb?"
Mustafa hijacked EgyptAir flight MS181 to Cairo from Alexandria and forced it to be redirected to Cyprus claiming to be wearing an explosives belt which was later found to be fake. From the plane, he demanded to see his former wife, a Cypriot national, and also to be given asylum in Cyprus.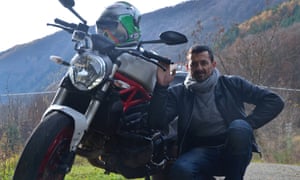 Andrea Banchetti.
Banchetti, a gas turbine mechanic, told the Guardian he had realised something was wrong on the flight when the cabin crew began to collect all the passports. Security at the airport had not been tight, he said. "I have worked around the world and I personally did not really like how [security] was managed in the airport, but that's only my opinion and I don't judge the work of other people," he said.
Information from the crew was given solely in Arabic, he said, but he immediately suspected terrorism. As the plane came in to land at Larnaca airport in Cyprus, Banchetti messaged his wife. "I was telling her what she should do, and giving her assurances. I was speaking to her and to my government all the time, using WhatsApp.
"When I first saw the hijacker he looked very calm, in his entire appearance. He spoke softly and communicated very little with us Europeans. He spoke only with the crew and they passed the information to us. But I can say now that I thought he had sweet eyes.
"When the hijacker asked us Europeans, five people, to walk to the back row of the plane, at that time, that's when the tension rose."
Banchetti said his wife was terrified, "especially when he told the Arab passengers to get off the plane". He was left with four other Europeans: three Britons, including Ben Innes, and a Dutchman, Huub Helthuis.
The European passengers sat in the back row of the plane but Banchetti said he could not understand the exchanges between the crew and the hijacker, which were in Arabic. They were generally left alone, he said. "We were talking, smoking. Taking a selfie. We were allowed to do anything apart from stand up." Innes then asked to take a picture with the hijacker, which was snapped by a member of the cabin crew.
Banchetti said the five of them were looking to each other for reassurance. "We were looking for comfort in each other's eyes, I was hoping that someone would say: 'Don't worry, I am an expert and that is not a bomb.' I am a gas turbine mechanic. I don't know about bombs."
It ended very suddenly for Banchetti. "He asked, who is Italian? And he called me over to him and said something I did not understand. But I wanted to believe he was saying, 'Don't worry, we are friends.'"
"And after about 10 minutes I could leave the plane. It was a beautiful, magnificent, unforgettable feeling. I walked away, my heart was pounding, quietly, quietly. And the first person I called was my wife."
Banchetti spent the night in Cyprus, but will return to Italy on Wednesday, to his enormous relief. He said he now feels pity for Mustafa. "I pray for the man who made this choice because now he will have more problems than before," he said.
Mustafa finally surrendered himself from the aircraft to counter-terrorism police, his hands in the air, after attempting to throw a letter to his ex-wife from the plane.
"This is really called love. Although it is sick, it is love. The most beautiful thing that God created," Banchetti said.
Helthuis, the Dutch businessman, said he had believed Mustafa posed a real threat, though some of his fellow hostages like Innes had been more blasé. He too had called his wife and son from the runway.
"Everything moved so quickly," Helthuis said. "You couldn't really think. It was hard to know how seriously to take him."
One passenger who was among the Arab passengers allowed to leave the plane upon landing said there was some levity among the passengers even at the height of the tension.
AbdAllah El Ashmawy posted on Facebook that one man slept through the drama: "He woke up to be informed, 'We are landing in Cyprus and his funny response was, 'Why Cyprus?! I will miss my connection."