None of us need to be reminded of how attached we are to our cell phones. As of Tuesday, we now have proof just how much we actually use mobile devices compared to our desktop computers. Google announced on Tuesday that they receive more mobile searches than desktop searches in the United States, Japan, and eight other countries.
The announcement just confirms the need to find effective mobile advertising solutions. Which leads us to Google's introduction of new mobile advertising formats; including high quality images for automotive research, hotel information such as rates, reviews, and availability as well as mortgage rate comparisons. One of these new ad formats is to take up the entire visible mobile screen with an ads, forcing users to scroll down to view any organic content.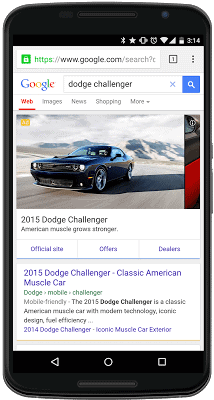 This move is reflective of Google's difficulty to monetize mobile users the way they have monetized desktop users. While the number of clicks on Google's ads have continued to increase, the cost of those ads have dropped at rates that parallel mobile growth according to Wired.
In order to help convince marketers of the value in mobile ads, Google has also rolled out new tools and reports. There is a new reporting dashboard that allows automated bidding and simulation tools and dynamic search ads that show ads based on the content of your website without the need to manage keywords.
Not only are ads and reporting improved, but the traditional attribution model has changed. Google has introduced AdWords attribution that moves beyond last-click, therefore improving the ability to use conversion data to calculate the effectiveness of keywords in the conversion path. Cross-device conversions are also integrated with the automated bidding so that marketers can measure activities that start on one device and are completed on another.
While Google has been hard at work improving its mobile advertising platforms, competitors are also looking to take a part of the share. Yahoo is looking to build mobile search directly into their apps, eliminating the need to exit an app to run a search query. Apple is working to integrate Twitter content into Spotlight, the search feature brought front and center and Apple devices. Apple also has several job listings for Spotlight, and something named "Apple Search," indicating that they may be making a play for their bitter rivals market share.
No matter which way you look at it, mobile search is here to stay and opportunity is abounding for those looking to make a move.