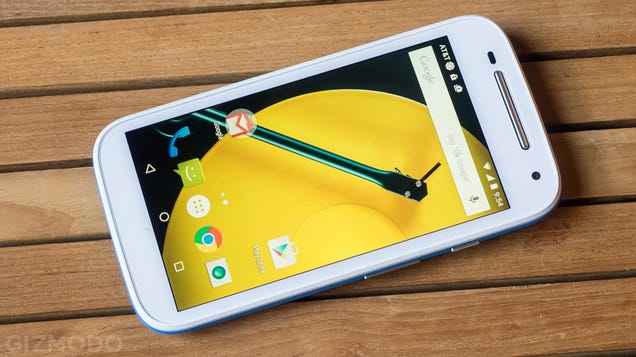 Right now, smartphone rumors are at a fever pitch. HTC is a leaky ship and Samsung hearsay arrives on the regular. Motorola opted out of the whole Mobile World Congress rat race that will be happening this weekend and instead shipped its new low-end champion, the Moto E, for all us gadget bloggers to gawk at our leisure.
Make no mistake: You won't be mistaking this guy for any of Motorola's other second generation smartphones. Even the ever excellent Moto G stands apart in size, design, and a notable inclusion of flash. But for $120 for 3G and $150 for LTE speeds (probably cheaper at carriers), the Moto E takes a serious design leap in looks over its great-yet-unappealing ancestor. The materials are all the same, by which I mean plastic on top of plastic on top encased in plastic, as well as some signature Motorola design flair (i.e. the subtle dip on the top of the phone, the depressed Motorola "M" logo, the silver bar speaker grill).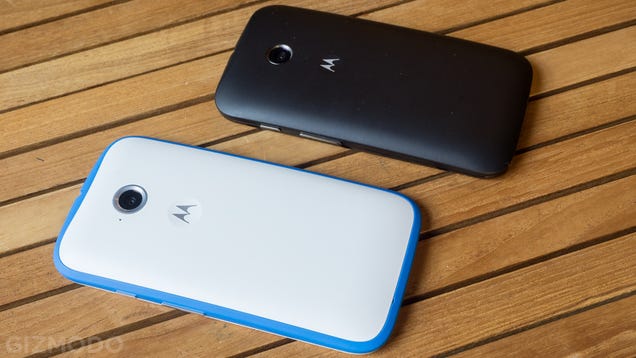 But where the Moto E really becomes interesting is through customization. Rather than removing the entire back panel as on the Moto Gs and any the previous Moto E, now you simply remove the rim of the device to snap six different color edges, including white, yellow, blue, andraspberry, as well as clear-back cases. But this build-your-own hardware is also functional, allowing access to expandable storage via microSD (you're going to need it with only 8GB onboard storage) as well as the SIM card.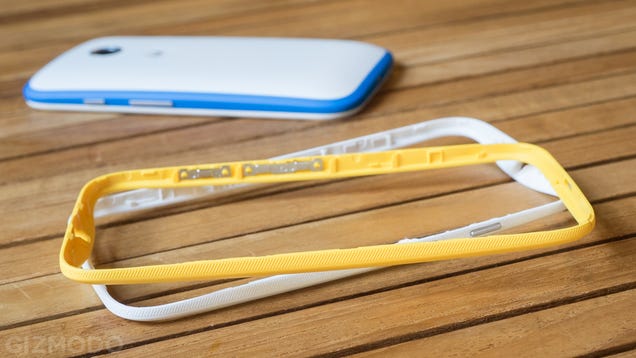 To round out this brief tour, the Moto E has a 960×540 display (around 245 ppi), a decently sized 2390 mAh battery, and a 1.2GHz Snapdragon 410 quad-core processor, which means this guys is actually faster than the Moto G. Just swiping through menus and rapidly flipping through apps, the Moto E was pretty lag-free, quite a feat for smartphones around this price.This little guy will also be running Lollipop 5.0.2 out of the box with some of Motorola's software add-ons. Obviously, the more advanced features like Moto Voice and Moto Display still remain flagship exclusives.
First impressions point to this little guy being pretty capable, but with the Moto G being only 30 bucks more ( minus LTE) the Moto E may have trouble finding an audience in the States. We'll know more when we put it through the gauntlet against other cheap smartphone contenders.