US Federal Aviation Administration requires medical exams and rudimentary psychological assessment, but not a formal mental health evaluation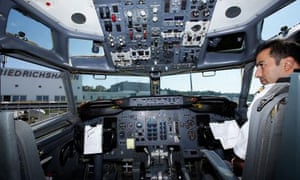 The mental health screening process for pilots is under increased scrutiny after a French prosecutor said that the co-pilot of the Germanwings flight that went down in the French Alps on Tuesday deliberately crashed the plane, killing all 150 people on board.
Carsten Spohr, CEO of Lufthansa – which owns Germanwings – said he was confident about the company's screening procedures.
Most violence is not linked to people with mental illness, as multiple studies have shown.
Spohr said co-pilot Andreas Lubitz, 28, was "100% fit for flying", but did not explain why Spohr took a break of several months from his pilot training six years ago.
"We can only speculate what might have been the motivation of the co-pilot," Spohr said. "In a company that prides itself on its safety record, this is a shock."
In the US, the Federal Aviation Administration requires pilots to pass a medical exam each year for those younger than 40 and every six months for those 40 and older. That includes a rudimentary psychological assessment, but not a formal mental health evaluation.
The process is similar to that used by the European Aviation Safety Agency.
People with bipolar disorder, psychotic disorders and alcohol or substance dependence are usually denied a certificate, while doctors, who are FAA-approved, are careful to defer issuing medical certificates if they detect that a pilot is experiencing other mental health issues.
As of April 2010, pilots taking one of four types of antidepressant medications are allowed to fly aircraft on a case-by-case basis.
The FAA's medical form relies on pilots to self-disclose what medications they are taking or any mental health disorders they have had or are experiencing. Fines of up to $250,000 are handed down to those who falsify information on the form.
Aaron Karp, a senior editor at Air Transport World, said he expects that a pilot's colleagues would also flag any unusual behavior. "Other pilots would – if they think the other person they are flying with has some sort of issues – they would be expected to say something," said Karp.
This crash, and questions surrounding the cause of other high-profile crashes like the deliberate crash of Mozambican Airlines flight TM470 in November 2013, may provoke airline authorities to review their process for mental health screening.
"I think there will definitely be some thinking on what do we do to make sure pilots are in good mental health," Karp said. "Should there be regular mental health exams? Should there be more education for pilots that notice when their pilots may have something going on or may not be in the right frame of mind?"
Airline crews also face specific mental health challenges, notes Cigna, the insurance company that has contracts with several major airlines. Pilots must be confident, independent, disciplined and prepared to deal with emergencies,Cigna says on its page about airline crews' needs.
"Pilots as a rule are extremely stable people," retired airline captain Steve Luckey told CNN. "By the time a person becomes a commercial pilot, they've gone through so many filters."
However, if a pilot begins experiencing mental health issues, they may be disincentivized to seek treatment because of how it could affect their medical certification. If they proceed with seeking treatment in the US, they must face a mental healthcare system that is overwhelmed and difficult to access.