What we know so far:
No confirmed signs of missing AirAsia plane, three days into search
AirAsia Flight 8501 vanished Sunday en route to Singapore from Indonesia
Plane lost contact at 7:24 a.m. after requesting to change course due to poor weather
Seven crew members and 155 passengers were on board, including 17 children and one infant
At least ten countries are assisting in the search on Tuesday, including the U.S., Australia, China
Planes and ships are scouring the Java Sea floor on day 3 of the search for the missing AirAsia Flight 8501.
The Airbus 302-200 vanished from the sky on Sunday with 155 passengers and seven crew members on board en route between Surabaya, Indonesia to Singapore. The hunt for it resumed just before 6 a.m. Tuesday morning local time.
The pilot of Flight 8501, Captain Iriyanto, requested a change of course with Jakarta's air traffic control — minutes before the flight lost contact at 6:24 a.m. Indonesia time. The pilot did not send a distress signal, but bad weather in the region may have affected the flight.
In his final contact with Indonesia's air traffic control, as detailed by state navigation body AirNav to BBC News, the pilot requested to turn left to avoid a storm at 06:12, which was granted. Iriyanto then requested to ascend to 38,000 feet from 32,000 feet but gave no reason, according to BBC. His request was denied due to another plane flying at that altitude. He did not respond.
On Tuesday morning, unconfirmed reports from local media said smoke was seen on Long Island, south of Belitung Island in the Java Sea. Two small planes have been sent to the area to look into the reports, no official party has commented on the information.
The U.S., Singapore, China, Malaysia, South Korea, Japan, France, Australia and New Zealand will all join Indonesia in the search for the missing jet in an area of east and southeast Belitung island and nearby waters on Tuesday. There are 30 ships involved, and 15 aircraft involved, according to CNN.
Most recently the U.S. Navy agreed to deploy destroyer USS Sampson, according to Channel News Asia. It is scheduled to reach the search area later on Tuesday. New Zealand, France and South Korea are also joining the search for the first time Tuesday.
The search area has been expanded to four new zones on Tuesday morning, according to a tweet from Malaysian Chief of Navy Abdul Aziz Jaafar. Seven zones were searched the previous day.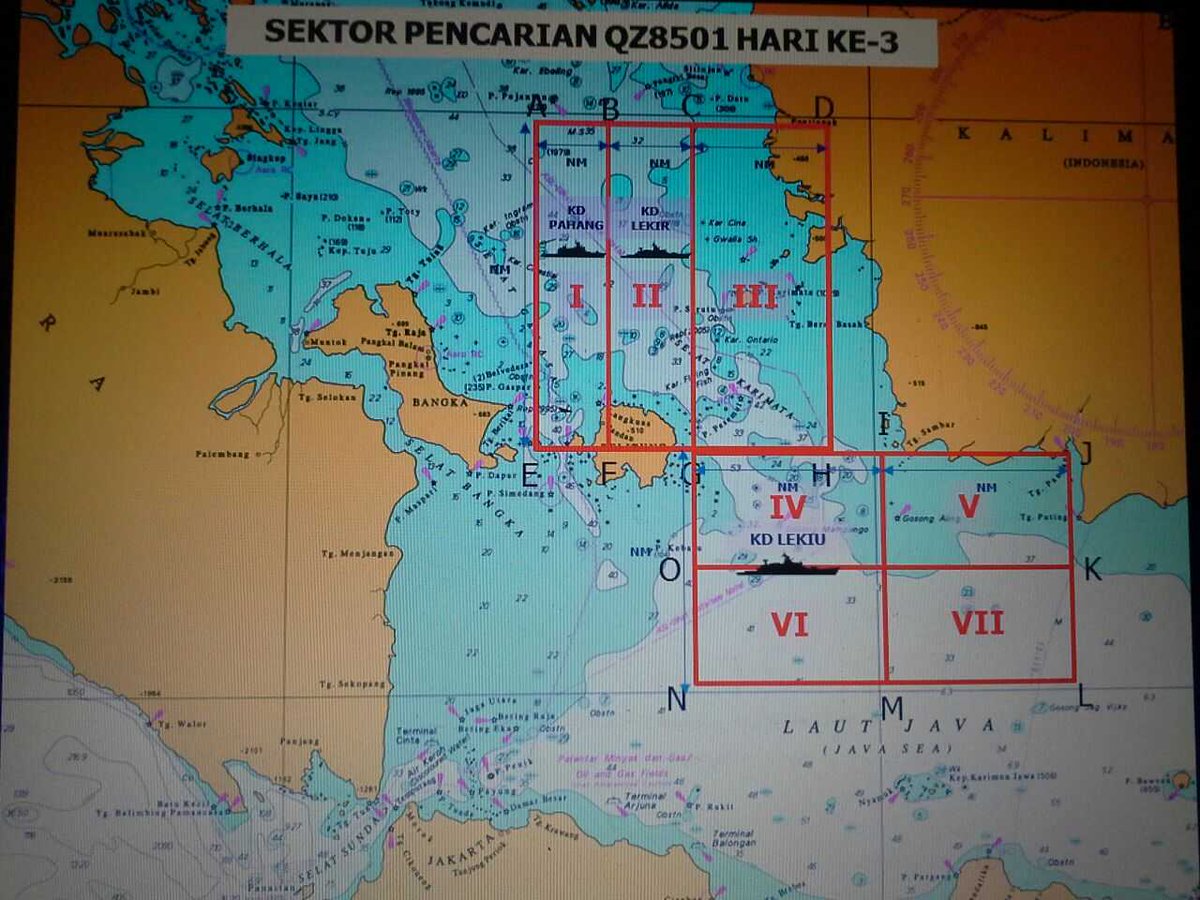 QZ 8501: Revised Sectors for the conduct of surface search effective 30 Dec 14. RMN allocated Sectors 1 & 2.
Despite reports of debris being spotted by an Australian military aircraft Monday night, which were later dismissed by Indonesian officials as not related to AirAsia Flight 8501, there has been no information or trace of the missing flight.
Indonesian National Search and Rescue Agency Chief Bambag Soelistyo said he believed the plane is at the the bottom of the ocean, according to local media.
"Based on the coordinates given to us and evaluation that the estimated crash position is in the sea, the hypothesis is the plane is at the bottom of the sea," he said. "That's the preliminary suspicion and it can develop based on the evaluation of the result of our search."