A Saudi-led coalition has been carrying out air strikes against rebels in Yemen for the past six weeks
Saudi-led coalition aircraft have dropped leaflets warning residents in a Yemeni border district to leave, as air strikes against Houthi rebels continue.
Leaflets were dropped in Old Saada in Saada province, the rebels' stronghold.
Houthi fighters have fired shells from Saada into Saudi Arabia in recent days, killing 10 people. Saudi-led strikes have killed at least 1,200 people, more than half civilians, the UN says.
The Saudis say their offensive aims to restore Yemen's exiled president.
The spokesman for the Saudi-led coalition, Brig Gen Ahmad Assiri, said Yemenis were being advised to stay away from Houthi strongholds for their own safety.
Mr Asseri said the overnight air strikes in Saada province were aimed at those behind the attacks on Saudi territory.
"Our work now is reaching those [Houthis] who planned these attacks and who are hiding in Saada, and the places where the militias are," Gen Assiri told Saudi TV.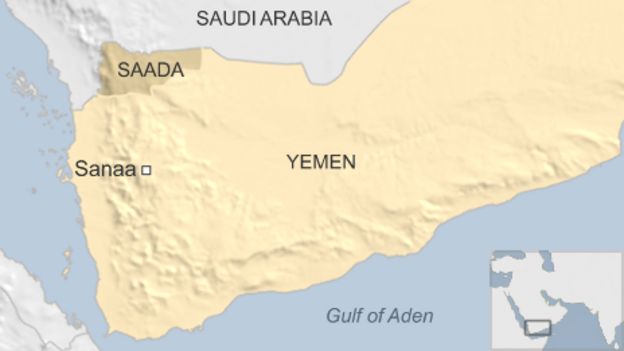 The latest strikes hit Houthi command and control centres, the Saudi state news agency, SPA said. Resident said the tomb of the Houthi movement's founder, Hussein al-Houthi, was also hit.
Earlier, Gen Assiri warned of "harsh" retaliation for a cross-border shelling attack by the rebels on the Saudi city of Najran on Wednesday.
Saudi Arabia has said it is prepared to introduce a five-day humanitarian ceasefire in Yemen if the Houthis agree to do the same.
However, a senior Houthi official, Mohamed al-Bukhaiti, told BBC Arabic on Friday that the ceasefire has not been formally proposed and the Houthis will not respond until a plan is properly laid out.
Aid agencies have warned that the fighting is causing a growing humanitarian crisis in Yemen, the most impoverished country in the Middle East.
The crisis began when Shia Houthi rebels from the north, backed by forces loyal to Yemen's former president, took over the capital Sanaa late last year, and have since expanded their control.
Sunni power Saudi Arabia has accused Shia rival Iran of arming the Houthis, a charge Iran and the Houthis deny, and has been sheltering the internationally recognised Yemeni President President Mansour Abdrabbuh Hadi who fled there in March.