The Internet is still reeling over Steve Harvey's major gaffe during Sunday night's Miss Universe pageant, in which the host mistakenly announced Miss Colombia as the winner, when in fact Miss Philippines was the one who had won the coveted crown.
While Twitter exploded with memes, the two women themselves have bothremained gracious throughout the awkward ordeal.
Here's what you need to know about this year's winner, Pia Alonzo Wurtzbach, and runner-up, Ariadna Gutierrez-Arévalo – or, as Donald Trump has crowned them, the "co-winners."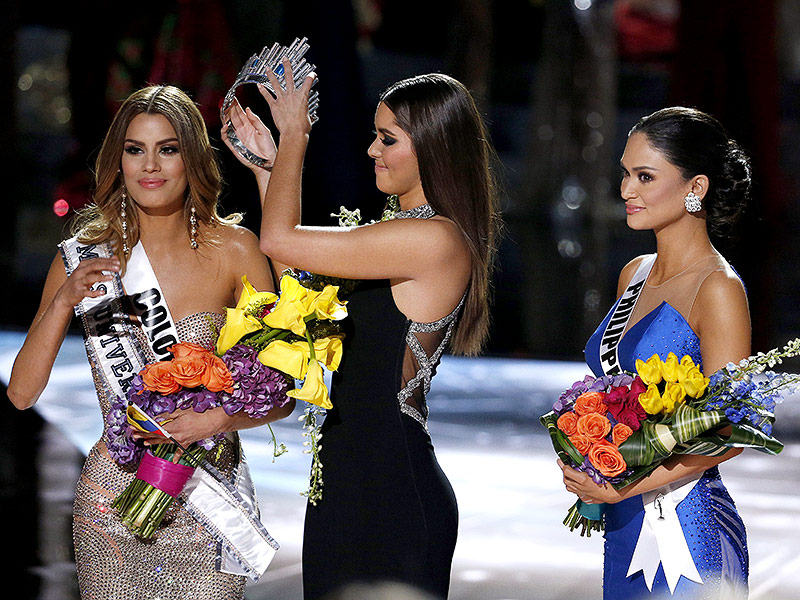 They're Both Trilingual
According to their Miss Universe bios, Gutierrez-Arévalo, 21, was born in Colombia on Christmas Day and currently lives in Bogotá, while Wurtzbach, 26, was born in Stuttgart, Germany, and grew up in Cagayan de Oro, Philippines.
Gutierrez-Arévalo, who is the youngest of five children and goes by "Beba" ("baby" in Spanish) in her family, speaks English, Spanish and German. Wurtzbach, who has one sister two years younger than her, speaks English, Filipino and German.
The women often post on their social media accounts in their native tongue: After having the crown taken away from her, Gutierrez-Arévalo later posted a screen grab of herself still wearing it on Instagram, writing: "POR SIEMPRE TU MISS UNIVERSO!! COLOMBIA !!!!!!!" which translates to "Forever your Miss Universe, Colombia."
They're Both Models
Both Gutierrez-Arévalo and Wurtzbach have modeling careers that go way back.
According to her bio, Gutierrez-Arévalo left home after high school to pursue a modeling career and "with hard work, determination and perseverance, she was able to achieve success."
Wurtzbach also worked as a cosmetics model, and at the age of 11 she worked as an actress under the screen name Pia Romero.
Miss Colombia Is a Total Cat Lady, Worships Princess Diana and Loves Pickles
Gutierrez-Arévalo, who has two cats (Abril and Gianni) and a dog, is affectionately known as "Cat Lady" by her friends and family.
In addition to her furry friends, Gutierrez-Arévalo is also a major Princess Diana fan – in fact, she considers her one of her idols: "For Ariadna, the people's princess embodies class, elegance, and most of all a heart of gold. She was a princess that touched many people's lives," reads her bio.
She's also shoe-obsessed, but the pageant queen's juiciest quirk is definitely that she loves pickles – like really loves them: "Her family and friends can't understand why she loves pickles so much. She even loves pickle juice!"
Miss Philippines Studied Culinary Arts in School and Writes for a Newspaper Back Home
Wurtzbach finished her secondary education with the ABS-CBN Distance Learning Center in the Philippines and and studied culinary arts at the Center for Asian Culinary Studies in Metro Manila.
The Miss Universe crown-holder is currently a stylist and writer for the lifestyle section of a newspaper in the Philippines.
And They Both Have Famous Fans!
Colombian-born actress Sofia Vergara has lots of love for her fellow Latina: Before Sunday's broadcast, the Modern Family actress took to Instagram to wish Gutierrez-Arévalo good luck, posting a picture of the pageant queen writing: "Suerte a nuestra reina" ("Good luck to our queen").
Gutierrez-Arévalo wrote back: "@sofiavergara eres la más hermosa !!! Orgullo latino, gracias por el apoyo," which translates to, "Sofia Vergara you are the most beautiful! Latin pride, thank you for the support."
After Harvey's flub, Vergara, 43, took to Instagram again to show her support for the Colombian runner-up, posting a picture of Gutierrez-Arévalo wearing the crown and writing, "La Reina de todos modos," ("The queen regardless").
As for Wurtzbach, she has her own celebrity fan base – former supermodel Tyra Banks took to Twitter to celebrate the winner after she was crowned on Sunday night.
"Dang, girl. You betta #SMIZE, @PiaWurtzbach for the win, girl! #MissUniverse2015 #MissPhilippines #Pinoy" she wrote.
Dang, girl. You betta , for the win, girl! pic.twitter.com/RuGjPZIk43

— Tyra Banks (@tyrabanks)